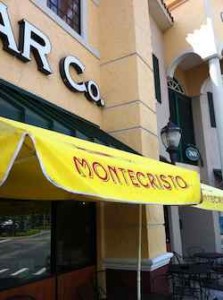 Even before you know what you're doing, you can 'look the part' of an accomplished cigar smoker.  These are the four essential items you will want to have.
1. CIGAR CUTTERS
There are just some things a cigar smoker can't do without. This is one of 'em.  Sure you can chew off the end of your cigar (like they do in the movies) and just spit it out, but nothing says you're a true connoisseur better than pulling out your own personal cigar cutter.  (Also see How to Cut a Cigar).
2. CIGAR LIGHTERS
If you're spending a goodly sum on your cigar, don't let your investment go up in smoke (the wrong way) because you didn't invest in a decent cigar lighter.  With all due respect to the little plastic wonder, a disposable Bic from the drugstore really doesn't make the grade.  Proper lighting is a key factor in ensuring that your cigar will taste its best!
Avoid a regular gas lighter as the fumes will be passed on to the cigar itself, and spoil the more delicate flavors.  The best implements are odorless butane lighters and good old wooden matches (Our chapter on lighting your cigar gives you some special tips about matches).
Smokin' Product: Colibri offers a huge range of high-tech pocket lighters, including many combination types with integrated tools and cigar cutters.
3. CIGAR TUBE or CARRYING CASE
Not to be confused with the humidor, a carrying case is a home-away-from-home for a cigar 'on the go'.  Tubes help seal in moisture, allowing you to keep a well-conditioned cigar fresh for up to 2 days outside a humidor.  Tubes come in glass or metal, and there are beautiful leather cases available, too. (One caution on the leather cases, they seem to have a tendency to dry our your cigar rather quickly).
Also, don't continually open your tube to smell the tobacco.  You'll be letting in dry air, which will contribute to their deterioration.  And try to avoid tubes with cork stoppers since they slowly exchange moisture with the "outside" air.
Some companies make great "Traveldors". These are small but efficient travel cases that have a humidification device inside. If you are taking a small number of cigars for a period of time this may be your best route. I use one in my golf bag – the cigars are kept fresh between rounds.
4. CIGAR ASHTRAY
What makes a cigar ashtray different from a normal ashtray? Most importantly, cigar ashtrays make it possible to rest the cigar without disrupting the ash, which can definitely improve the way the cigar burns
An excellent (and growing) range of cigar trays in a variety of materials and styles are being offering from well-known cigar brands including Dunhill and Perolo.  Some ashtrays feature famous cigar logos such as Cohiba, H. Upmann and others.
Many of the Hillwood ashtrays match their wood and leather humidors, making an attractive 'smoking bar' at home. Dunhill's crystal ashtrays are also popular and come equipped with up to four cigar rests.