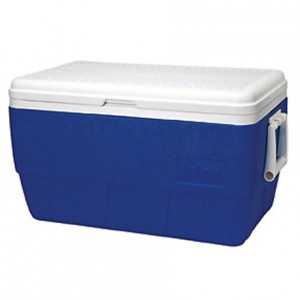 You have probably heard the term "Coolidor" in cigar smoking circles and wondered what the heck it is…and if you should even have one.
First off, the Coolidor is a great way to come up with a make shift cigar humidor – and don't let the cigar snobs tell you otherwise.
Sure, a full fledged humidor is the way to go, but some people, either due to space or budget, just don't want to outlay that kind of cash.
So, here is what you need for a quick humidor that will work great (and it sure beats throwing your cigars in a shoebox).
Here is what you will need.
4-Pack: Boveda Humidifier
2-3 Cigar Caddy Crystal Gel Humidification Jars
1 XIKAR Digital Round Cigar Hygrometer 832XI
Cedar cigar boxes (or cedar racks)
The concept…
The Igloo type cooler is sealed and works well. These coolers are "food grade" – so you don't need to worry about some sort of plastic smell getting on your cigars.
The Boveda packs are great for maintaining a specific humidity. I like 72 for the Igloo, but there are other variations available so you can find one to your liking.
I like adding the Gel Containers. Although the Boveda packs work on their own, you will extend the life of them if you add another source for humidity. The gel containers can be refilled as needed (use distilled water). Keep up with those and you won't need to replace your Boveda packs anytime soon.
The Hygrometer will keep everyone honest. You can adjust the gel containers and Boveda packs as needed.
The cedar boxes…well…it is cedar after all.
Going for a big cooler?
If you are going big (100 quart cooler or more), consider adding a cordless fan. You can get the battery operated ones at your local drug store. They run on batteries and are meant to work as a room air freshener. DO NOT add the air freshener part – just use the fan. They typically come on every 15 minutes or so, run for a few minutes, then turn off.
That is it.
You have a great make shift Cigar Humidor that does not cost you an arm and a leg – and will keep your cigars fresh!*
*and please don't be that guy that keeps cigars in the refrigerator – you now know better!