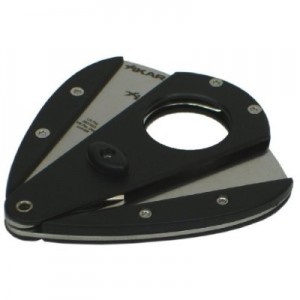 Sure, you can use a razor blade, an x-acto knife or a pocket blade; you can even just bite and tear to remove the uncut end of a cigar.  Probably uncouth, but not without it's value when you're far from home with an unclipped cigar and a powerful urge to smoke.
But you already know (if you read the How to Cut a Cigar post) that a cigar cutter is one of the four essential tools an experienced cigar smoking aficionado needs.  Simply stated, the object of the cut is to create an ample, smooth opening for smoking.  This will allow you to draw more easily on your stogie and will also ensure that your cigar burns evenly without damaging its structure.
Here are some of your Cigar Cutter options:
Cigar Knife
Single Cutter
Double Cutter
Straight Blade
Double Blade
Bullet Cutter
Bullet Punch
Eagle Scissors
Credit Card Cutter
Punch
And my personal favorite (shown in picture)…
The Guillotine Cigar Cutter
But once you get over the fun idea of executing the tip of your smoke, the real question is this:  'What's the right tool for the job?"  What's the recommended way to trim a smoke?
What you use to clip your cigar is a matter of personal preference.  Cigar smokers are known (and respected!) for their independent minds and spirits.  So do a little hunting and pecking, a little nipping and clipping, and see which manufacturer has a product that fits your hand, your sense of style – and your budget.
And keep it clean, boys and girls!  If your formerly wonderful cutter suddenly stops working well, YOU may be the culprit – having let a build-up of moist tobacco accumulate and dull the edge.  If your cutter is in less than optimal condition, you might as well just use your teeth, so wipe off the blade of your cutter frequently and be sure to keep any cutter well sharpened.
The latest in 'cutting edge' cutters?  For the golfer that wants to be smokin' on the fairway, Dunhill has created an all-in-one cutter and divot repair tool.  And nobody offers more combination cutting instruments than Colibiri, including a refillable pen with integrated bullet-style cigar cutter (available in a variety of smart colors and finishes) and a large selection of combination cigar cutters and lighters.