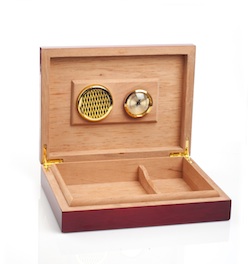 Deciding which size humidor you should buy seems like one of those obvious questions that prompt the response, "well, how many cigars are you going to hold?"
What is the best size cigar humidor? Here are few guidelines to help you along the way.
The Small Fry ($29.00 – $150)
A small humidor holds somewhere between 50-100 sticks. Although we have seen some that hold less than 50, we don't think you want to go there. 100+/-  is a great starter humidor and can often be picked up online very cheap.
Oftentimes you can find "specials" where the cigar merchant (typically online) throws in a humidor, lighter, and cutter – along with whatever cigars they are pushing that week. The cigars usually suck – buy hey, you can get a decent small humidor out of the deal for a great price.
The green "sponge bricks" that come with these cigar humidors are usually not very good. Grab a Boveda Humidifier Pack
and you are in business – with little effort.
Medium Collector ($150 – $500)
The 300-500 count humidor is great for the average cigar smoker. Keep in mind, that you are still in the class where you are mostly buying individual sticks (boxes take up a lot of space).
You may not think you need something big, but you will invariably have about 30% of your stock that sits around for a variety of reasons (the need to age, saving for a special occasion, etc).
The medium size gives you a bit of flexibility over a small one when saving cigars for a later date.
Go Big or Go Home? ($500 – 2,000)
A large humidor is a commitment, but not a lot more hassle. We are talking about the cabinet size (roughly 5' high, 2½' wide, 2' deep).
For starters, you can take advantage of box pricing. That alone can make the humidor pay for itself over time.
Secondly, some people are afraid of the humidification system. Save yourself time and pick up an Cigar Oasis II
. Easy to use and will keep your collection safe.
Lastly, you might find a great large cabinet humidor for $600-$700. Keep an eye on Craigslist or eBay. If you are patient, you can practically steal one.
Size Matters
No matter which size you start with, you will most likely "upgrade" sometime in the future. Just seems to be the natural order of things. Make sure you shop around as the pricing on humidors is dramatically different from merchant to merchant – make sure you are getting a good deal.