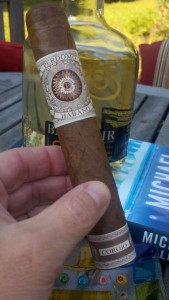 On Sunday afternoon I took advantage of a bright crisp fall day to have a
seat in the garden, share a glass of single malt with my daughter and light
up a wonderful cigar-the Perdomo Habano with a Corojo wrapper in a 6X60
gordo size.
The cigar is wonderful to look at, a light sheen lets it almost
glow. This Nicaraguan puro is well constructed, firm in the hand with a
great cedar-y smell in the pre-light.
I paired it with an 11 year old Balblair Highland single malt that my daughter just brought back from
Scotland, The citrus notes of the scotch were perfect with the rich
full-bodied Perdomo. It's burn was consistent-no relights or touch ups.
The flavor was cedar and leather with a spicy retro-hale. This cigar's flavor
was tasty throughout.
The size and construction of the gordo is just great. You really feel
special with the creamy smoke and great draw.
I smoked it down to the nub. It took about an hour and I was in no hurry. I only really have one
criticism: the ash was a little flakey and fell off sooner than I wanted.
The price was right too at $8 or so from my local B & M. There are a few
more of these in my humidor…I am already looking forward to them.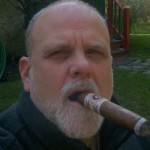 Guest Reviewer is: J Bebb is a 52 year old cigar enthusiast that has been enjoying smoking for
30 years. Along with cigars he enjoys fine dining, cooking, beer, rare and
unusual whisky and outdoor activities. A father of three he is proud to say
that his children echo his enthusiasm. J lives with his wife of 25 years and
family in upstate New York.