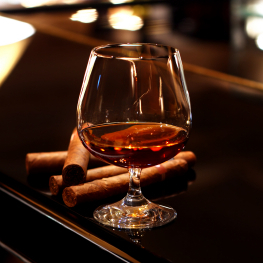 OK, hopefully by now you have some idea of how to pick out, light and blow smoke rings with the best of them. Picking out the right drink to go with a cigar can be challenging in its own right and is also a double edge sword. If you have the wrong combination, the best cigar may taste horrible (or no taste at all) and your fine after dinner drink may taste like you wished you spent .25 a ounce instead of $25.
Although I can certainly write an entire site on this subject (trust me, I am doing the research as we speak), I do want you to have a good reference to get you started. I have divided the "with drinks" category into three. Ports, Single Malts, and "other". 
Also, I have to admit, I am not really one that gravitates towards "flavored" cigars. I have no problem with those that do, just not my choice typically. I will say however, this can be a great time to bring them out. The pairings are almost limitless and although you will find some atrocious combinations –there are some real gems in some of those pairings. 
Ports
Brandy fortified wine. A complex flavor in its own right does offer opportunity for a good cigar combination. Ports are easily divided into two main areas. Ruby and Tawny. Tawnies are usually kept in newer oak barrels and are paler in color. Ruby ports are usually kept in barrels that were once used for red wine. 
There is no right or wrong on whether you drink Tawny or Ruby ports. The Ruby Ports will be noticeably sweeter than their Tawny counterparts.  
If you lean towards a milder cigar (light wrapper and filler) you will find that they work in both categories but are often better with the Tawnies. Both Macanudo's and Montecristo's are excellent in this category. With Tawny ports, it is best to avoid Maduro cigars. Most likely you will not do justice to the cigar or the port. You can experiment with the "flavored" cigars with the ports but they are better served going with a Ruby port. 
Ruby ports on the other hand are a big Catch 22 and will require some research to match your individual tastes. Unlike the other categories, Ruby ports are the most volatile (often dependent on what you ate within the hour). One person will love a cigar with a ruby port while the other, having the exact same thing will have a less than desirable experience. You can experiment with any of the basic flavor cigars (with the exception of Vanilla). Your Acid and Natural cigar lines can be tough in this area as well (although a "Juicy Lucy" from Acid can squeak in from time to time in favorable fashion). Mild cigars work well and a smooth Maduro can go a long way (if you are a "slow smoker"). 
Single Malts
Aaah, my favorite pairing. If any category of after dinner drink completely goes with a cigar, this may be it. Let me first mention one disclaimer. Single Malts are not for everyone. They are often stronger than the other two categories. Drink what you enjoy – not what other people tell you what you should be drinking. With that said, you may want to give single Malts a chance. They are an acquired taste and much like cigars themselves come in many different styles and varieties. 
To understand the pairings, lets first understand the basics of single malts themselves. They may have characteristics that can be described as "Salty", "Peaty" (as in Peat Moss), and with "Iodine". 
Looking for a quick choice? Avoid Maduro's and Flavored cigars. Any mild to medium cigar will work great. Anything from Arturo Fuente (Hemingway) will be enjoyable as well as anything from Punch, Partagas, and Cohiba. 
Best choices for Single Malt? In no particular order: Oban, Macallan 18 year (the 25 is also very good but just as well to drink it without a cigar at that point), Talisker 10 year, Glenfiddich 18, and Bunnahabhain. 
Other
This category is really up to you. Perhaps you already have a favorite after dinner drink and are wondering if adding a cigar will help (or hurt) the experience. Well, you just won't know until you try. 
A mild cigar is always a good start. The trick here is to not introduce competing flavors but complimentary ones. A lot of drinks in this category have a flavor of their own (Ameretto, Frangelico, etc). In this case, the cigar should come along for the ride. 
Note: I always get asked about Remy Martin Louis XIII and a cigar pairing. Louis XIII is a popular drink that can be found at the top (and most secure) part of a finer bar. Currently selling from $100-$250 for single glass ($1,300 for the bottle). I think some people order it to look impressive and others simply think it is the best money can buy. In either case, keep the cigar in your travel humidor. Enjoy the glass if that is what you wish then light up a cigar.