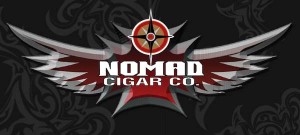 Orlando, FL (March 28, 2012) – This March, Fred Rewey, founder and president of Nomad Cigar Company, Inc., introduced his first line of Nomad cigars.
Created in the heart of the Dominican Republic, Nomad's initial offering comes in 5 shapes and each cigar showcases Dominican filler and binder with an Ecuadorian Habano wrapper.
Nomad's founder was adamant about focusing on the quality of the cigars first, and letting the price points fall where they must. Fred stated, "It doesn't do any good staying focused on a [low] price point if you can't deliver a solid cigar. Fortunately, at the end of the day, we were able to procure amazing tobacco and deliver it at an affordable price."
Nomad's flagship cigar is called the "Fugitive." The 2012 Limited Edition is 5 7/8" in length with a max ring size of 64.  The Fugitive has a unique feature being tapered on both ends.
Also included in the initial line:
The "Drifter." – Full 6" in length and a 60 Ring gauge.
The "Navigator" – A 6" Torpedo
The Renegade – A traditional 5 ½" x 54 Robusto
The Vagabond – 4 5/8" in length with a max ring size of 54 (also tapered on both ends).
The cigars are presented either in boxes or cellophane-bundled (online orders are "bundled" until late April).
Nomad also set out to shake up the cigar buying experience in two ways. One, people can go online and register for Nomad's "Fugitive Club," a cigar referral program that enables smokers to gain points and redeem for Nomad swag or even cigars. Secondly, Fred personally signs each order and Nomad has been known to throw "something extra" in the cigar orders – just to say thanks.
Nomad was focused on two factors from the very beginning; the cigars themselves and creating an unprecedented access to the company. It appears that they have accomplished both.
If cigar buyers are unable to find a retail location in their area currently carrying the Nomad line, they are also offered direct on Nomad's website at www.NomadCigarCompany.com
Contact:
Fred "Godfadr" Rewey, Nomad Cigar Company
Twitter: @Godfadr
Godfadr@NomadCigarCompany.com